July 2020
PQ magazine caught the train with Joanne Crompton, a real
inspiration to fellow bookkeepers everywhere.
Joanne Crompton leads a busy life. She is a wife, a mother of four, works in an accountancy practice, is a Victorian house renovator – and, in her 'spare time', she is a volunteer at two heritage railways as a steam locomotive fireman.

Her first venture into bookkeeping began back in 1995 after the birth of her son – her job was to collect the monies in a small mother and toddler group. This is where she first developed a passion for bookkeeping and accounts.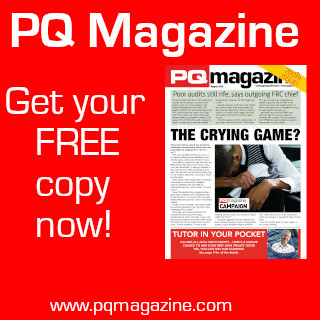 Eventually this experience led to a career working with various companies within the manufacturing industry, dealing with the normal basic day-to-day bookkeeping tasks and monthend procedures.

Throughout this time she felt she needed a recognised qualification to push her career forward, but the time and opportunity never arose.

In October 2018, she moved to a small accountancy practice as a bookkeeper and payroll clerk, but she worried about the little gaps in her knowledge.

Shortly after starting in her new role she was diagnosed with a rare form of aggressive cancer, which rightly changed her whole perspective. Joanne decided it was now or never to train as a bona fide bookkeeper.

She set about doing her research. She needed a course that she could take at home, in her own time, that fitted into her busy life. She quickly decided the ICB was the right institute her, and through the ICB website she found approved provide the Training Link.

Signing up for Level 2 and 3, she began her studies in April 2019 while recovering from cancer treatment, and passed her ICB Level 2 qualification in October 2019. She achieved a Distinction with Honours at 98%.

Joanne began her ICB Level 3 qualification shortly after, and her aim is to finish that and then go on to study the ICB Payroll qualification. The end goal is ICB Level 4.

She has nothing but high praise for Training Link. She particularly liked the official student group, moderated by tutors, where you can discuss things with other students.

Joanne plans to continue working in practice, and says: "I love the variety it brings and being ICB qualified will enable me to provide the best and excellent quality service that I can."

• If you want to become a qualified bookkeeper check out Training Link, a PQ magazine award winner, at www.training-link.co.uk