October 2020
Meet Matthew Fisher, a Yorkshire cricketer who just happens to be
studying for the ICAEW CFAB qualification in his spare time.
Cricketer Matthew Fisher made his debut in June 2013 for Yorkshire against Leicestershire, at the tender age of 15 years and 212 days. He became the youngest cricketer to play in a competitive county game.

For you cricket buffs out there the previous record was held by a Welshman, Royston Gabe-Jones.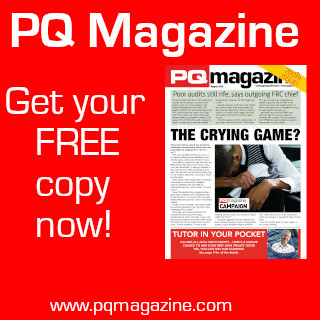 In May 2015, on his debut in the T20 Blast he took five Derbyshire wickets. He has captained the England Under 19s, represented the MCC and England Lions, but has also hit some injury speedbumps along the way. That's not uncommon for pace bowlers.

During lockdown Fisher didn't decide to learn a new instrument or language. He chose to study for an accountancy qualification, under the watchful eye of regular PQ contributor Philip E Dunn. Opting for the CFAB, he is now an ICAEW student and he will shortly be sitting his first module examination.

We asked him how it was all going, and here's what he said…

Why did you decide to study accountancy?

During lockdown, I was picking my brains at what I could do outside of cricket. I enjoyed maths at school, and sorting my payslip out at the end of each month, so I thought naturally that accountancy might be something I would enjoy.

How have you found the ICAEW manuals – does the information stick easy?
The manuals have been very useful and easy to understand.

I have a certain method of reading all the information in the chapter first and then make notes after, and then consolidate with Philip weekly on that topic.

You are to take your first exam soon. Are you as confident as opening the bowling for Yorkshire?
Interesting question. I would say after recently bowling quite well in the first game back of the season that I'm edging towards opening the bowling, but there's nothing a bit of revision can't fix so hopefully will be as confident at both very soon.

Any advice for fellow students?
I would say consistency is the key, to have time periods in your routine or week that are designated to your study and that remains consistent each week.

I have struggled a lot more now cricket has started to have the time set aside, but I need to get back on track as soon as cricket gets quieter.

What's the hardest part of studying?
Similar to the above. I found during lockdown it was really easy to get into a routine and to remain consistent, but I feel like when there are distractions that's the hardest part of keeping the routine going. The actual studying part I really enjoy. Anything that tests my brain gives me a sense of accomplishment which makes me happy.

How has the lockdown been for you?

Lockdown has been refreshing. I feel like everyone says they will have some time to relax and think about plans for the future, etc. but I feel no one ever does that properly.
I think lockdown emphasised to a lot of people what direction you're going in and whether it's the right one or not. It gave me reinforcement that my cricket is the most important, which I have always felt, and I want to become the best player I can be over the next 10 years. And it also made me look at how I can get better outside of cricket. For me, this is something that gets me away from the game and makes me feel like I'm more than just a cricketer and that I have another string to my bow.