There is just a week to go to the first-ever online PQ magazine awards.
So, who will walk off with a coveted PQ Trophy?
Check out our teaser video! Go to: https://vimeo.com/540079288.
Don't forget you are all invited to join us for the fun! We will be streaming live from Rogo's HQ in Shoreditch, on Thursday 29 April at 7pm BST.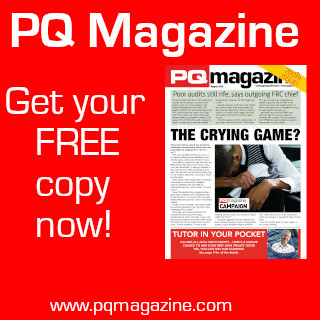 If you register on our Eventbrite page we will be able to update you with any last minute changes, and remind you where to go on the night. See: https://www.eventbrite.co.uk/e/pq-magazine-awards-2021-tickets-149674792333.
Let's remind you of the shortlists…
STUDENT BODY OF THE YEAR
Birmingham Chartered Accountants' Student Society (BCASS)
East Anglia Chartered Accountants' Student Society (EACASS)
Northern Chartered Accountants' Student Society (NCASS)
North West CIPFA Student Society (NWCSN)
The Lincoln Student Management Investment Fund (LSMIF), University of Lincoln
UK ACCA Distance Learning Students Facebook Group
ACCOUNTANCY BODY OF THE YEAR
The usual suspects – to be announced on the night
ACCOUNTANCY COLLEGE OF THE YEAR
Public Sector
CIPFA's CETC
Queen Mary University, London
University of Lincoln
University of Liverpool
University of South Wales
University of West London, The Claude Littner Business School
Private Sector
First Intuition
Future Connect
HTFT Partnership
Kaplan
LSBF
Osborne Training
ONLINE COLLEGE OF THE YEAR
First Intuition Distance Learning
FME Learn Online
LSBF
Osborne Training
Premier Training
Training Link
LECTURER OF THE YEAR
Public Sector
Anna Hardy-Watmough, Manchester Metropolitan University
Terry Hunt, Southend Adult Community College
Usha Mistry, London South Bank University
Helen Scott, University of Liverpool
Dr Dinusha Weerawardane, University of West London
Rebecca Wright, University of South Wales
Private Sector
Tom Clendon, FME Learn Online
Alan Dawson, Premier Training
Dr Constantine 'Dino' Kritsis, Study Smart
Waleed Minhas, Kaplan Professional ME
Bev Roberts, Training Link
Regwana Uddin, LSBF
STUDY RESOURCE OF THE YEAR
A Walkthrough of Real Examination Answers, CIMA
AAT Level 3 Advanced Diploma course, Mindful Education
CBE Practice Platform, ACCA
Free AAT revision sessions, First Intuition
Free online classes, Open Tuition
Remote invigilated exams, ICB
INNOVATION IN ACCOUNTANCY
AATitude Accountancy Festival, First Intuition
ACCA Professional Insights Team
ICB TV
HTFT Play
The Bookkeepers Summit, ICB
The Bookkeepers' Podcast – Zoe Whitman & Jo Wood
BEST USE OF SOCIAL MEDIA
First Intuition Distance Learning
Jason Nye, CIMA
Kaplan: Instagram Live
#StaySafeandKeepStudying campaign (Premier Training)
Study fun group – light hearted not affiliated to any prof accounting body
'Ask Jen', Training Link
MENTOR/TRAINING MANGER OF THE YEAR
Jon Block
Becky Hennessey
Greg Houston
Tim Jones
Umar Tariq
Christine Walls
ACCOUNTANCY TEAM OF THE YEAR
Dunelm Optical Company
East Lancashire Hospitals NHS Trust Finance Team (ELHT)
Infinity Partnership
Red Funnel
The Finance Department @ University Hospitals Birmingham NHS Foundation Trust
Jo Wood Virtual FD
ACCOUNTANCY PERSONALITY OF THE YEAR
Louise Ball
Garry Carter
Philip Dunn
Lauren Gough
Andy Hardy
Kelly O'Donovan
EDITOR'S SPECIAL AWARDS
To be announced on the night
ACCOUNTANCY GRADUATE OF THE YEAR
Saida Acugba
Courtney Leonard
Rhianna Lindsay
Muhammad Malek
Emma Mellor
Yusuf Yader
APPRENTICE OF THE YEAR
Haider Ali
Kal Ali
Zak Barwell
Andra Blaj
Craig Peacock
Amy St Romaine
NQ OF THE YEAR
Lauren Gough
Sophie (Louise) Hatton
Laura Day-Henderson
Joshua Higham
Chilufya Mulenga
Ryan Wale
DISTANCE LEARNING STUDENT OF THE YEAR
Demel Johnson
Elizabeth (Liz) Jones
Natia Kvartshava
Amanda Millward
Lynn Tanigawa
Kalkidan Wodajo
PQ OF THE YEAR
Evie Barnes
Simon Cordell
Noah Davis
Emma Dykes
Lindsey Welsh
Catherine (Cathy) Wright
#PQAwards