Time may seem like it is standing still at the moment, but we need your nominations for the PQ magazine awards 2021.
There are lots of bright and shiny 'PQs' up for grabs as always – so come on which has your name printed on it?
Our awards can be all about you (you can nominate yourself), or it is your chance to nominate someone you think never gets the plaudits they deserve. Maybe it's the whole accountancy team or your training/manager mentor, it could be your tutor or fellow PQ.
Now is not the time to be shy – remember the PQ awards are a unique opportunity to celebrate all that's good about the accountancy profession. And, we all know how much we could do with a bit of cheering up.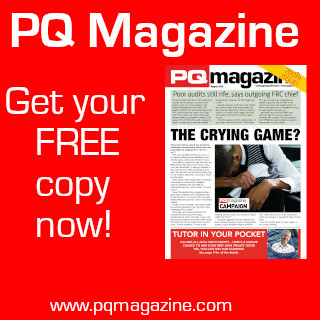 Just get together 250 wise words on why you believe your nominee should win, plus gather up any supporting evidence you want to supply.
When entering please make really clear what category you are entering and please remember less in more. Our judges don't want to see 500 words when we only asked for 250 – they can be sticklers for the rules! Remember, it's the supporting material where you provide the evidence for the entry.
So, what are you waiting for? Just download the nomination form at www.pqmagazine.com. Just click on the 'pq awards' bar at the top of the home page and download the form. Then when you are ready email your entry to awards@pqmagazine.com.
If you feel you want to post it to us then it needs to go to: PQ magazine, PO Box 75983, London E11 9GS.
The deadline for entries is Friday 19 March – and remember you can't win it if you aren't in it!
PQ AWARDS 2021 CATEGORIES
PQ of the Year
NQ of the Year
Distance Learning Student of the Year
Accountancy Graduate of the Year (new category for 2021)
Apprentice of the Year
Student Body of the Year
Accountancy College of the Year – Public Sector
Accountancy Body of the Year – Private Sector
Online College of the Year
Lecturer of the Year – Public Sector
Lecturer of the Year – Private Sector
Study Resource of the Year
Innovation in Accountancy Award
Best Use of Social Media Award
Training Manager/Mentor of the Year
Accountancy Team of the Year
Accountancy Personality of the Year