The August issue 40-page issue of PQ you can download is out. Check it out at: https://issuu.com/pqpublishing/docs/pq_0821.
It's a total free and independent resource for all accountancy trainees.
In the latest issue we unveil the largest recruiter of PQ accountants, and ask ACCA some seriously hard questions about the June sitting. AAT has also given the green light to remote exams, and we remind CIMA PQs there's still time to take advantage of the free resit offer, just.
AIA launches its streamlined professional qualification, CCAB asks for you to take their ethical survey, and we explain why QR codes might be here to stay.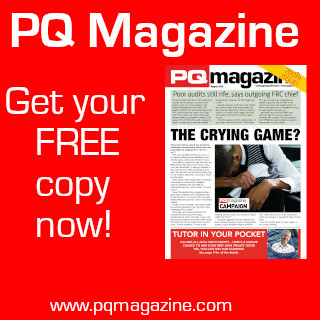 We also reveal the reasons behind the strengthening of the Prudential Code, PwC unveils 'The New Equation', and with ACCA's help we take a look at the future of the finance function.
ICAEW's Iain Wright is worried that a new corporate audit body could be a 'costly distraction', and we run through how you can get your Xero certifications and badges for free.
There's lots more too, in your August issue.
One magazine for all part qualified accountants.