December 2022
The new Strategic Level professional marks should be easy to pick up. Paul Merison explains how to earn them on the AAA paper.
Any change to an exam paper can seem scary – to us tutors, as well as students! All that uncertainty. No past papers for guidance. And "professional marks" sound so vague and woolly.
From the September 2022 sitting, Advanced Audit & Assurance (AAA) has 20 professional marks available. Stripping those out of each question means Questions 1-3 are now worth 40, 20 and 20 technical content marks, meaning in effect the professional marks represent another question in terms of marks available.

These 20 marks cannot be ignored. So, the killer question: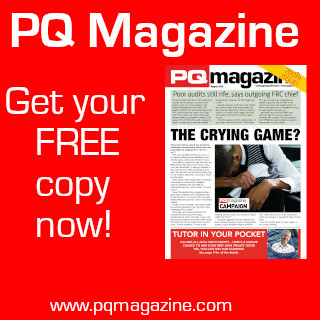 What can you do to help ensure enough of these professional marks are being earned?What this article is NOT going to do: The professional marks come in four categories, but I fail to see how knowing those categories helps you earn the marks. So, I am going to ignore that aspect. ACCA's website has videos explaining them, so I suggest you invest 15 minutes watching them.
What this article IS going to do: Simple. I am going to tell you the easy wins. Just do as I say, and you can hoover up the easier professional marks without any stress.
Three quick point
This article is aimed purely at AAA. Some of it might help on other Options papers, but since I do not teach those, I would not want to comment!

Secondly, when ACCA change things they tend to evolve over time, so as sittings pass and we get more information, keep your eyes open for updates in these tips.

Finally, ACCA has helped us all by rewriting three recent past exam papers from 2020
and 2021 and adding a new mock with 20 professional marks included. USE THEM!
Simple to-do list for AAA professional marks
In Q1:
a. ensure you use the To/From, Subject, Date set-up at the start of your Briefing Notes.
b. have an Introduction listing your content (i.e., the requirements).
c. use headings throughout your answer.
2. At the end of your audit risk (or risk of material misstatement) answer, decide which are the 2 or 3 priority risks and have a short conclusion justifying why. ISAs say biggest risks depend on SUCCM, so use those words in your justification (as well as materiality of the risk):
a. Subjective item.
b. Uncertain item.
c. Change – new issue this year.
d. Complicated.
e. Management likely to use item to manipulate FS.
3. The questions are likely to tell you how to calculate materiality (e.g., on profits). Do what it says, calculate a range (e.g., 5-10% of PBT), then select a number from that range and say why (the lower figure in the range will usually be easiest to justify, because of all the risks you are about to put in your answer).
4. If the requirement makes any other specific requests, do them… and make CLEAR you have done them (e.g., as requested, I have not covered the risks relating to accounting for the new pension scheme).
5. Criticise ALL assumptions management have made, highlighting that they are potentially too optimistic, and suggesting why management seem so keen to massage the figures.
6. For all ethics, quality management and other scenarios where you are "evaluating" the situation, have a short conclusion.

Given there are likely to be several evaluation requirements needing a conclusion, several management assumptions to criticise and several reasons management are biased, the above points are likely to get you half the professional marks easily.

What's that? You want more than six ideas? Half the professional marks are not enough for you?

Good job! Nice to see some motivation. Here are some less simple ways to get professional marks:
7. Write clearly (easier said than done!).
8. Wherever possible, use the scenario information to illustrate points you make.
9. If you do calculations, present them neatly (in a table, perhaps).
10. Consider the long-term implications of the scenario for your audit firm, and the audit client.
Conclusion
Do not let the 20 professional marks worry you. There is nothing complicated or scary here – just make sure you know what earns those marks, and practise writing answers and earning them as often as you can.

At the very least, go onto the ACCA Practice Platform and ensure you have attempted and reviewed the practice exams, specimen and mock with the 20 professional marks included.
And if you are at a tuition provider, do the mock exam!
Paul Merison, Director of Professional School, LSBF