October 2020
PQ editor Graham Hambly chats to CIMA's Steve Flatman about the tribulations of the past six months.

Accountancy bodies have had a mixed pandemic. Some have struggled with the lockdown and remotely invigilated exams. Others, like CIMA, seem to have taken it all in their stride.

PQ magazine recently caught up with Stephen Flatman, CIMA's examination VP, over Zoom (of course) to discuss the latest pass rates and how it has been for CIMA in the 'new normal'. Remember, this is the institute that just seven weeks after total lockdown had its remote invigilated exams 'live'.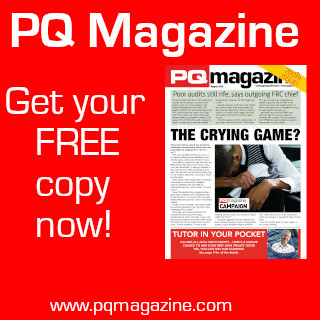 Flatman was proud (and rightly) about how his team and partners reacted – but his biggest praise was for the students. He said: "I have been humbled by our students and their resilience. They came with us and made this a really positive journey."

He admits a project like launching online remote exams would normally take two years. Necessity truly is the mother of invention. Tens of thousands of objective tests have now been successfully completed and the pass rates have really held up. The May case study pass rates were particularly impressive. And numbers look great for the August case study – the MCS is going to be the biggest sitting ever.

Flatman (pictured) reminded us too that the new syllabus was added to the mix in January 2020. But a quick look at the E-pillar OT pass rates, where many of the changes happened, show again tutors and students have risen to the challenge.

Even the P1, P2 and F2 pass rates are rising. CIMA moved online exams way back 2015 meant, with partner Pearson, it had a solid basis to move forward. The technology was continually improving, so when Covid-19 hit it was well placed to make the changes needed. That is not to underestimate the work involved.

Some people have been surprised with CIMA's honesty, too. It recently told students that if they are sitting the case study then the exam centres option might be the best one to take.

Connectivity is still an issue, and he said individuals will know what theirs is like better than CIMA. He also understood that those shielding will have to go for remote invigilation, and he said this 'experience' will improve as the product gets better.

With the World Health Organisation saying the pandemic could be with us for two more years, Flatman explained everything he was doing was to help students to get qualified.

Something CIMA did recently was to offer a free exam resit if candidates were unsuccessful in their exam during June and July.

It has definitely been showing its student-centric side for some time. For example, CIMA also became the first accountancy body in the UK to end the practice of charging exemption fees for new students.
This was something PQ magazine has been campaigning for on all students' behalf – to no avail until last August (2019).
CIMA explained the move would encourage both accessibility and social mobility.

Finally, when we asked about students' wellbeing, he said by providing online exams for everyone and keeping the exams the same CIMA had been able to provide certainty in what has been an uncertain world. That, he believes, should not be underestimated.