Could blended learning be for you? Mark Mckenna explains the pros and cons.
Lots of PQ readers will be juggling their studies with other work and life commitments and, at times, it might feel like there aren't enough hours in the day to get it all done.
With our increasingly busy lives and diverging commitments having a flexible way to study that doesn't always require face-to-face classes is becoming a must for budding accountants.
Ultimately, professional exams are demanding, and thus the ability to choose when, where and how to study could make all the difference between getting through the qualification or not.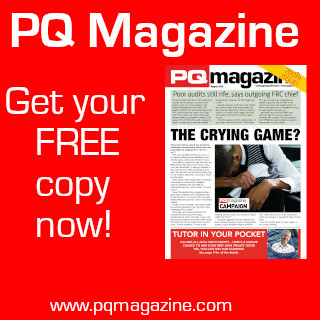 For some, the answer lies in distance learning – studying purely via online and books – but this doesn't suit everyone.
Distance learning requires excellent study discipline for many months, together with a resilience to figure out any problems largely by yourself, which is why completion rates for purely distance learning are consistently and considerably below study that involves some face-to-face learning.
This is where blended learning – a method of teaching that combines both online and face-to-face delivery models – comes in.
Blended learning is a relatively new concept but is fast becoming increasingly popular, as it provides the best of both worlds to students looking to get ahead.
When i completed my accountancy exams (admittedly a few years ago now!) I vividly remember the weight of the textbooks I had to trek into and out of college for class, together with the long commute to and from the centre.
While I valued the classes hugely – both for teaching and the peer-to-peer support, which provided many 'lightbulb' moments – I couldn't help feel that everyone was operating at different speeds in the classroom, with the result that not everyone was quite getting what they wanted from it.
Yet away from class, back at home, I also remember my many murmured exclamations of "what does that mean?" when sitting down over a weekend or evening, wishing I had someone or something able to explain the concept to me.
The back of the book was helpful sometimes, but often it felt like it could have been written in another language!
Looking back, I now know that blended learning would have been the route for me.
If you're considering blended learning for the next stage of your accounting studies, do take the time to consider the options available to you.
It is worthwhile to think about how you like to learn and spend time up-front working that out.
Make sure you read course information carefully to ensure you're getting a truly blended course, and be sure to ask for demos and more information to see what the learning experience will be like, ensuring that it will indeed delivery a flexible way to get ahead.
Mark Mckenna is the Founder and Managing Director at Mindful Education