June 2020
PQ magazine takes a look at how you can become an insolvency practitioner.
Unfortunately, one thing is certain in these uncertain times, there will be a growing demand for skilled people to help businesses who need saving.

As in many areas you need a special qualification to act as a liquidator, administrator, voluntary arrangement supervisor, or bankruptcy trustee. Only an insolvency practitioner can undertake these roles, and to become a licensed insolvency practitioner you must sit and pass the Joint Insolvency Examination Board (JIEB) exams).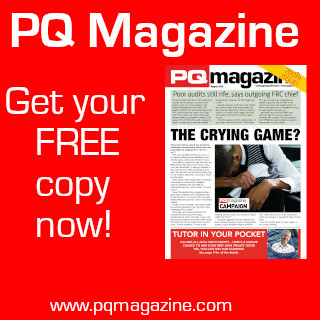 These exams are held just once a year, normally in November, and there are two papers: 'Corporate Insolvency' and 'Personal Insolvency'.

At the moment, and given the fact that the exams are not until November, the JIEB is proceeding on a 'business as usual' basis, and is hoping "that these challenging times will have settled down by then so the exams can proceed as normal".

You don't have to pass these exams at the same sitting either, and you only need to pass one exam to obtain a partial licence. Each paper is three hours long with half-an-hour allowed for reading time. All JIEB exams are computer-based, so getting to know the software before your exam is essential. There are webinars and practice exam software to help you here.

The JIEB stresses that its exams are a practical test of the knowledge and skills that insolvency practitioners use in their working lives. You can check out what has been recently been tested by looking at the past papers. The examiner's report also gives you an idea of the sort of thing they expect to see in answers.

The main tutorial organisations for JIEB are BPP and Neil Taylor Insolvency. Looking at the costs of studying you can pay anything from £395 (for the manual) to £7,000 for both papers.

Insolvency at the top level doesn't come cheap. And, once you have passed the JIEB exams you will need to be licensed by one of the four recognised professional bodies (RPB), or by the Department of the Economy in Northern Ireland.

There are three types of insolvency licence: a full licence, and partial licences in respect of either companies or individuals. The RPBs also offer a non-appointment taking licence. That means you can work as an insolvency practitioner, but you would not be able to accept appointments.

The RPBs are CAI, ICAEW, ICAS and the Insolvency Practitioners Association (IPA). You do not have to be a member of a particular body to apply for an insolvency licence. The ACCA had been an RPB until 31 December 2019.
It decided to relinquish its status and has now entered a collaboration agreement with the IPA. The application processes vary between the RPBs, but typically JIEB says you will need to:

• Acquire a minimum number of hours of insolvency experience.

• Demonstrate that you are a fit and proper person.

• Comply with the RPBs regulations, the law, the SIPs (Statements of Insolvency Practice) and the Insolvency Code of Ethics.

• Be monitored by the RPB.

• Pay a fee, including the levies payable to the Insolvency Service, the Department of the Economy and the Complaints Gateway.

You will also need to have a bond and professional indemnity insurance. And, if you are a member of an accountancy body, you will probably have to have a practising certificate as well.

There may, however, be some better firststeps you might want to take, to see if insolvency
is for you. There are the Certificate of Proficiency in Corporate Insolvency (CPCI), the Certificate of Proficiency in Personal Insolvency (CPPI), and last but not least the Certificate of Proficiency in Insolvency (CPI).
These are all offered by the Insolvency Practitioners Association, with exams held in June and December. To sit the CPI, for example, you will need to become an IPA student member. The IPA explains this is an established intermediate exam for those wanting to specialise, and ideal preparation for JIE. CPI can also lead to membership of the IPA and to entitlement to use its designatory letters MIPA.

The registration and subscription fees come to just over £350 and a distance learning course around £700.

The ICAEW also offer a Certificate in Insolvency, so you might want to opt for this one. What about the costs and time here?

Well, the ICAEW say it will take less than 12 months to obtain the certificate. There is an initial registration fee of £140 plus VAT (no fee for ICAEW members and students) and an assessment fee of £300 plus VAT.
The last online learning classroom live sessions with BPP kicked off on 17 April with the introductory module 'Legal & Regulatory Framework for Insolvency'.
The 30 hours of lectures cost £1,865 plus VAT. You also receive free membership to the Restructuring & Insolvency Community while you are studying.
For more visit the ICAEW's website.