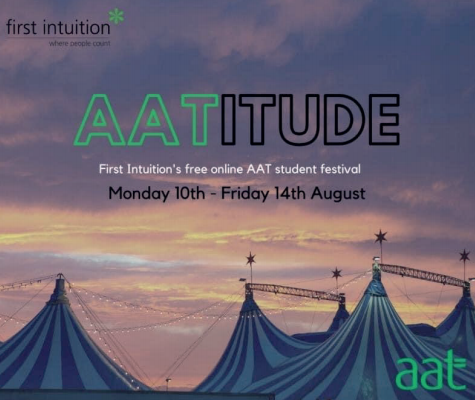 October 2020
First Intuition's Gareth John explains the rationale behind its first
week-long AAT festival.
The uncertainties of lockdown, and the resulting suspension of AAT assessments, meant that many studiers ground to a halt for many weeks. First Intuition thought that a great way to help them refocus on their studies and to give a sense of community to students struggling with studying remotely was to run a free online student festival…open to all!

And so, with an ambition to inspire and motivate AAT students who might have felt in 'lockdown limbo', First Intuition's AATitude Festival was born; a week-long schedule of events with a multitude of expert speakers covering a wide variety of technical, interpersonal and career topics! The festival offered a unique virtual space to draw together a multitude of perspectives, experiences and expertise.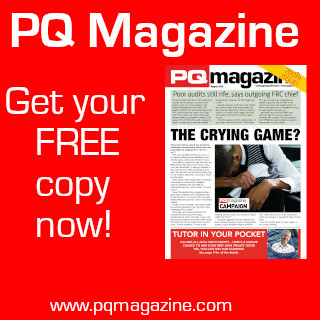 PQ Magazine brilliantly got in on the act to help spread the word to students who would benefit from this event and given it was the first time such a student event had ever been run it was amazing to get around 1,500 registrations from across the UK.

This article recaps some of the activities that took place over the week meaning that you don't have to miss out even if you missed it. Myself and my colleagues picked out some of our personal highlights.

"How to achieve a distinction panel discussion"

Nick Craggs, AAT Distance Learning Director, thought the 'how to achieve a distinction' panel discussion was one the best sessions. He was joined by three students, Nick Wiggs, Phoebe Warner and Denitsa Gavrilova, who came to share their tips as to how to not just pass assessments, but how to 'boss them' and get a distinction. You can find a recording of the session here.

Only 1% of students achieve a distinction at level 4, which both Nick and Phoebe did, so it was really interesting to hear what they did in the run up to their assessment, and on exam day itself.

"The changing role of the accountant and the future of accountancy"

I am personally fascinated by the way that technology, automation and AI is affecting the world of finance, so I was delighted to host a panel discussion on this topic with leading industry observers. I was joined by Graham Hambly, editor of PQ Magazine, Steven Drew, Head of Markets and Products at AAT, and Andy Turpin, Director of the Virtual Finance Office at PEM Chartered Accountants. The session covered a broad mix of the practical and human changes that we are already seeing affecting the way that accountants work, which you can watch here.

"Skills to succeed in synoptic assessments"

Many students are nervous about sitting their Synoptic assessment.This is understandable since the format and content of these exams is very different to others. Expert tutor Crystal Haygreen, Director of AAT studies, and other colleagues shared their top tips on how to pass these tricky papers first time. See the video here.

"How the AAT supports you and your studies & Training on communication skills for accountants"

The AAT remains the premier entry-level qualification for aspiring accountants and in this session Crystal spoke to guest speakers Ross Grange and Neil Maguire from the AAT to find out what support they offer their students, particularly relevant at this challenging time for so many.

Crystal is also joined by a renowned guest speaker who we were very lucky to have appear. Alex Bond presented a brilliant masterclass on how accountants can improve their crucial communication skills to supercharge their career prospects!

"Accounting qualifications to consider after completing AAT"

It was an early start again on the final day of festival for Ben Bullman, Managing Director and myself, but worth it for a great chat about study options after finishing AAT. We regularly see how the AAT helps students enter and successfully progress with ICAEW, CIMA and ACCA. Ben and Gareth talked through exemptions, timescales, top tips and Ben's personal experiences of succeeding with study beyond AAT. Catch up at here if you need the low-down.

"Stories from AAT students who are changing their lives with the qualification"

Bullman's favourite session was the brilliant final headline act where we heard the study and career journeys of Rebecca Fay (former AAT Apprentice of the Year), James Duggan (former Royal Family chef turned accountant) and also the incredible Arsenal and England player Leah Williamson, who is making great progress with her AAT studies alongside her hugely successful football career. We even had a surprise appearance from another sporting AAT student, Paralympic athlete Stephanie Millward MBE, her Gold medal and an Olympic torch!

Such inspiring stories for aspiring accountants to hear! Watch the whole fascinating session here.

AATitude Playlist

These are just a handful of our highlights from the first AATitude Festival – you can see a full set of recordings on the AATitude YouTube Playlist here.

We can't wait until AATitude 2021!

• Gareth John is a director at First Intutition