February 2021
Kelly Feehan has some tips on how you can minimise the pandemic's
effect on your accountancy career.
Since the Covid-19 pandemic began, the accountancy profession has faced its worst crisis in more than a decade. Major blows have been dealt across the industry, with training contracts deferred or cancelled, promotions delayed and pay rises missed out on. In some cases, staff are actually finding themselves even busier than before, juggling the challenges of home working with covering the workload of furloughed colleagues. Whatever their circumstances, for many accountants, there is a distinct impression that careers have completely stalled.

It's easy to feel frustrated in situations such as these, especially if you're new to the industry and eager to begin climbing the ladder. But it's important not to make any rash decisions about how to kickstart your career. Instead, take some time to think about your options and concentrate on your long-term plan. Rather than worrying about things that you can't control, focus on what you can.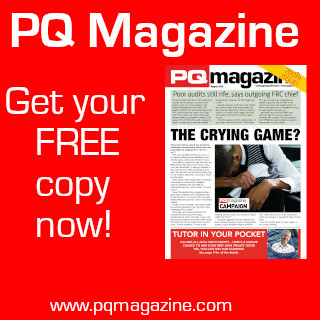 Of course, this is often easier said than done. So, here are three top tips to help make the most of this unexpected time.
1: Don't stop learning

Seize every opportunity to broaden your knowledge. If you're relatively new to the industry, for example, take some time to develop the skills you might have gained this year. When the opportunity comes to accelerate your development, you may find that you've given yourself an advantage.

Don't stop there, though. Learning new skills outside your profession, via means such as webinars, on-demand courses – like those that we're currently offering at CABA – or even some form of accredited training, can be both fulfilling and good for your wellbeing. You might consider coding, project management or advanced excel, for example. All of which might be helpful when work picks up again.

In short, use this time to make yourself more marketable. The pandemic may have slowed your progress, but that doesn't mean you can't catch up. Consider how you'd answer a question about what you've been up to for the last few months.

Nobody's necessarily expecting you to have started a business or completed a year's worth of studies, but having even a little something that you can look back on and feel proud of is a powerful way to boost your confidence.
2: Stay connected

Try not to distance yourself from your profession or your peers. Keeping up-to-date with the latest news and industry developments will not only keep you connected but will also help you to develop quickly once the opportunity arises. There are plenty of events and learning opportunities being offered by both ICAEW and CABA, so give some of these a try if you're able.

Likewise, find ways to stay connected with your colleagues and talk to as many people as you can. Whether you're based at home, in an office or have had to put your work on hold entirely, if there are 'stay in touch' events available, make sure you join them. Check in on LinkedIn regularly, share content, comment on posts and contribute to debates.
This unusual period might actually prove a surprisingly good opportunity to expand your network and make new contacts.

Putting the time into doing this now will only help your future career development, so it's a great habit to get into while you have the chance.
3: Stay active
It's easy to fall into sedentary habits without the structure and routine of a job or when working from home full-time. Be mindful though of the negative effect that this can have on your fitness, energy levels and lifestyle. Staying active is, after all, just as crucial to your mental wellbeing as it is to your physical health. Whether it be cycling, a workout in the lounge or simply a good walk, find a form of exercise that suits you. Set yourself targets, like number of steps per day or minutes exercised per week, can be a good way of keeping on track.

Alternatively, you might want to occupy yourself with some part-time or voluntary work if you're waiting for things to pick up again at the office.

The benefits of keeping yourself active in this particular way are two-fold, giving you both a sense of fulfilment and something great to put on your CV.

While the pandemic lingers on, it's easy to feel as though we are living in a world full of things that we simply can't control. As disconcerting as this might be though, especially when that feeling extends to our careers, it's important not to dwell on the negatives. Your progression might very well seem to have stalled – even if, in some cases, your workload has done completely the opposite – but there are plenty of things that we can still control. It's by seizing these opportunities that we will ultimately feel positive and unbeaten when the time comes to start climbing that ladder once again.

• Kelly Feehan, Service Director, CABA