January 2021
Is this the time to reset the accountancy button, and create a new-looking profession? The London South Bank University and PQ magazine's one-day conference is back, and this time it's virtual. Editor Graham Hambly explains why you need to get involved.
It's been a tough 2020, of that there is no doubt. However, the worldwide pandemic could be a massive chance to create a new normal for accountancy PQs.

The amounts of money governments around the world have borrowed to help their citizens get through it all is unparalleled, eye-watering even.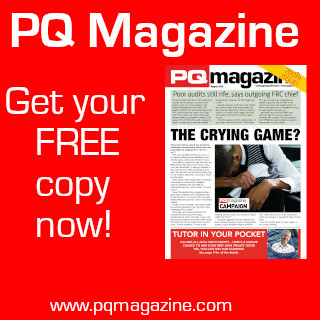 But, as we come through the tunnel into the light will we just go back to the old ways of doing things, or have things changed forever?

Surely we don't want to waste this opportunity for forging a better accountancy profession?

I personally think some of the changes that have happened in our working lives were coming; the pandemic has meant we have just got there quicker. Remote invigilated exams have been created at breakneck speed, and generally considering the massive logistical issues involved have been done really well.

Remember, if the bodies were rolling these out in normal times (pre-March 2020) then they would have three-year project teams sorting this stuff out. CIMA got its remote exams up and running in just seven weeks after lockdown. What it shows is that radical change is possible, and it can happen quickly if people are fully engaged in the process.

But, even with the rise of the robots and AI (we haven't forgotten they are coming!), we must not forget the huge role accountants can play in making the world a better place.

Here at PQ magazine we still firmly believe accountants can help save the planet. And the accountancy bodies now seem to have finally taken a leading role in the sustainability debate. Just take a look at their syllabuses.
But let's talk about the conference. We are creating a fantastic line-up for you and it's all totally free – you just need to go online and sign up as our GUEST!

Lord Sikka and Professor Richard Murphy will be there to give their own special spin on what 2021 holds, and how accountants can shape that future.

We also have the wonderful Francesca Sharp and Caroline Kearns, who will explain how the ICAEW has gone carbon neutral and why the UN Sustainability Development Goals have never been more important.

We haven't forgotten about the jobs market, either, and have signed up PQ magazine's very-own agony aunt Karen Young for the conference. She's a director of Hays Accountancy and Finance, and come February the results of the Hays salary survey should be available, along with longer-term trends in employment.

We have other great speakers lined up too, so watch this space.

This is our fourth conference with London South Bank University, and each one has got bigger than the last. We hope hundreds of you will join us this time.

Sign up to our free one-day conference on 3 February 2021, brought to you by London South Bank University and PQ magazine. Just sign up as a Guest here.