The Hays Salary and Recruiting Trends 2020 guide found PQs are much happier with their take home pay, too. Just over one in three PQs (38%) said they were not being paid what they were worth. This compares with 58% of PQs who, two years ago, thought they weren't receiving fair remuneration for all their hard work.
And PQs want their organisation to be transparent about how pay levels and pay rises are set. Some 46% said this was 'very important' to them. Young stressed that PQ employers need to put practical steps in place that show they have clear promotion and pay structures. Regular career and pay reviews also need to take place.
The average UK salary for a PQ accountant now stands at £28,198, a 2% increase on last year's £27,635. Finalists can expect average pay of £33,063, a rise year-on-year of 2.7%. In London, ACCA and CIMA PQ finalists are being paid £44,000. This compares with £38,000 for ACAs working in the capital, and £33,500 for CIPFA PQs at the same level.
At the other end of the pay scale are PQs in Northern Ireland. Finalist salary rates are £29,000 for ACCA and CIMA trainees. For ACA finalists the average annual salary being paid is £28,000. CIPFA PQs earn around £26,000.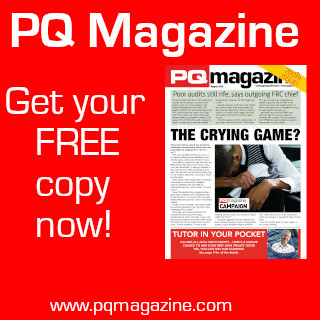 The survey found the work-life balance is also important to PQs. Unfortunately fewer PQs rated their work-life balance positively this year. Young stressed: "Employers should make flexible working a key focus in their policies and promote to their current workforce and through job adverts to aid attraction and retention."
Interestingly, when it came to top benefits, getting more than 28 days' holiday ranked higher than financial support for professional studies!