We have released more shortlists today for the PQ magazine Awards 2021.
The awards themselves are just three weeks away, and we have just one more batch to release tomorrow…
Remember, you can join us for accountancy's biggest night for PQs, on Thursday 29 April, at 7pm sharp!
The event is open to everyone. But, if you register on Eventbrite we will be able to update you with any last minute changes, and will remind you of where to go on the night.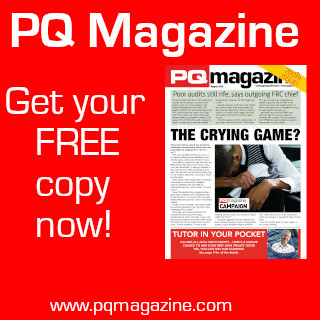 Sign up at: https://www.eventbrite.co.uk/e/pq-magazine-awards-2021-tickets-149674792333
Here are the shortlists for another seven of the #PQAwards categories:
PUBLIC SECTOR ACCOUNTANCY COLLEGE OF THE YEAR
CIPFA's CETC
Queen Mary University, London;
University of Lincoln;
University of Liverpool
University of South Wales
University of West London, The Claude Littner Business School
PRIVATE SECTOR COLLEGE OF THE YEAR
First Intuition
Future Connect Training
HTFT Partnership
Kaplan
LSBF
Osborne Training
ONLINE ACCOUNTANCY COLLEGE OF THE YEAR
First Intuition Distance Learning
FME Learn Online
LSBF
Osborne Training
Premier Training
Training Link
PUBLIC SECTOR ACCOUNTANCY LECTURER OF THE YEAR
Anna Hardy-Watmough, Manchester Met University
Terry Hunt, Southend Adult Community College
Usha Mistry, London South Bank University;
Helen Scott, University of Liverpool
Dinusha Weerawardane, University of West London
Rebecca Wright, University of South Wales
STUDENT BODY OF THE YEAR
Birmingham Chartered Accountants' Student Society (BCASS)
East Anglia Chartered Accountants' Student Society (EACASS)
Northern Chartered Accountants' Student Society (NCASS)
North West CIPFA Student Society (NWCSN)
The Lincoln Student Management Investment Fund (LSMIF), University of Lincoln
UK ACCA Distance Learning Students Facebook Group
MENTOR/TRAINING MANAGER OF THE YEAR
Jon Block
Becky Hennessey
Greg Houston
Tim Jones
Umar Tariq
Christine Walls
ACCOUNTANCY TEAM OF THE YEAR
Dunlem Optical Company
East Lancashire Hospitals NHS Trust
Infinity Partnership
Red Funnel
University Hospitals Birmingham NHS Foundation Trust
Jo Wood Virtual FD