PQs wellbeing and mental health has 'taken a tumble' during the lockdown, according to the latest study from recruitment firm Hays.
The Hays Wellbeing Matters report found just 33% of PQs rated their wellbeing as positive since the Covid-19 crisis hit, that's down from a 62% positive rating pre-lockdown. Worryingly, those who saw their wellbeing as 'negative' has risen from 6% to 27%.
Clearly, working remotely or being furloughed is taking its toll on PQs. Hays said accountancy is still predominately traditionally an office, desk-based job, so shifting to working for home is a huge adjustment.
So, what are the things getting PQs down? The biggest concern is the lack of social interaction (cited by 27% of you), followed by feelings of isolation and loneliness (13%). An increase in workload isn't helping one in ten (11%), and its all just boring for another 10%.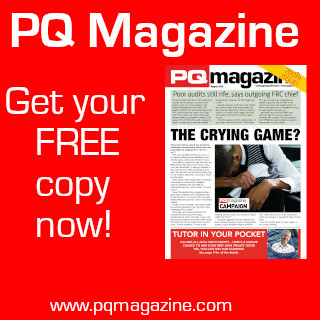 Since lockdown began getting the work-life balance right has also become more important to two in five (43%) of PQs. Despite this, over half rate their work-life balance between average and poor.
Many employers also don't seem to be stepping up to the mark to help either! While nearly three-quarters of PQs say their employer has a responsibility to help with their wellbeing, some 53% revealed their employer has not provided any wellbeing support during lockdown.
Those who are supplying support, however, are doing it really well. Some 12% are offering counselling, and the same percentage have things like an online doctor.
In another survey from the ACCA and the Corporate Finance Network accountants have revealed an alarming one in 10 of their SME clients have shared the fact that they've had suicidal thoughts.
Asked about their clients' mental health, some 89% of accountants say their clients have reported feeling more stressed than usual and not sleeping, with 78% stating a worsening mental health condition, and 56% claiming they are "unable to cope".
The health tracker survey found SMEs' concerns about accessing cash during lockdown have also increased, with 23% saying they won't be able to access cash to last them two weeks or more of lockdown, compared to 12% just a week before. Perceptions about trading conditions have also altered, with just 16% saying they think they will be training normally in the near future, compared to 21% a week ago.
Head of ACCA UK, Claire Bennison, said: "As the weeks pass, the impact on lives is becoming clearer, as more small business owners decide to liquidate, we are also seeing a worsening picture of mental health in the small business community. Having someone to speak to at this time is vital, and we know some hard conversations are being had, and will continue for months to come."
*See more on the new Hays Welling Matters survey inside the latest issue: