The countdown has begun for the 17th PQ magazine awards night. Our sponsors are signed up, the venue is booked – what we need now is a room full of excited part qualified accountants!
The PQ awards really are the only place to be. You don't have to believe us – take a look at our award videos from the past two years here, where London's glamorous Café
de Paris is the setting for both wonderful evenings.
Come on, who doesn't want to win a shiny 'PQ' trophy? We don't think Lecturer of the Year, LSBF's Britita Petrova, has put her trophy down since winning it last February. Her winning photo has even appeared in the ACCA's interactive mosaic. We think she might take it to bed with her!
Among the other 2019 winners was the Training Place of Excellence's Daniel Amoakah and Brunilda Aliaj. It's Daniel who stars on this month's front cover. They won our Training manager/Mentor of the Year category. Another winner on the night was the UK ACCA Distance Learning Students Facebook Group. They recently celebrated their fifth birthday, and really are a group that puts students' interests at their heart.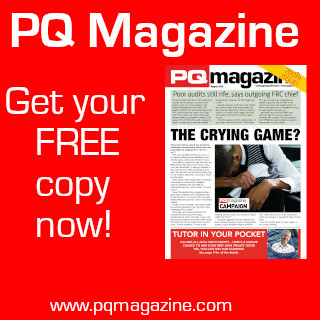 The awards take place in February, always around the time of the Oscars and the Brits. But we promise our attendees have far more fun! So come and join the party.
To get started all you need to do is download the nomination form from our website. Click here to download a form. Alternatively, email us your entry directly, making it clear which category you are entering. It is also important that we have all your details too, because we may need to invite you to the awards night!
There are lots PQs up for grabs – 18 in all – so plenty of chances to be a winner. As always we will be looking for a college and lecturer from both the private and public sectors.
What do we need you to actually do? Well, we have kept it simple: we want you to write 250 words, plus any supporting evidence, on why your nominee should be shortlisted for one of our awards. Please remember we are happy for you to nominate yourself – this is not a time to be shy, and we understand that sometimes people aren't always appreciated for the hard work they do.
All shortlisted nominees also get to come along to our awards night for free.
Once you have everything ready send it to awards@pqmagazine.com or post to:
The Editor,
PQ magazine, Unit 3a, Kingfisher Height,
2 Bramwell Way, Royal Docks, London E16 2GQ.
Our independent judges will read every entry to create a shortlist of five for each category, before choosing the winners. As we always say, you have to be in it to win it, so come on get nominating.
The deadline for nominations is Friday 20 December 2019.